Spain | It is a real paradise we take you to, 50 minutes drive from Seville, at the gates of the Sierra Sur, in an old stately house from the end of the seventeenth century, surrounded by farmland.
In 2009, Maud, a professional equestrian, and Didier, a pharmacist, fell in love with a French couple united by a passion for horses – who regularly came to Andalusia for the Duma Vaquera dressage courses. However, it was nothing more than ruined! In 2013, they finally got hold of her and did everything they could to return her to her former spirit. Since 2015, they've been sharing their passion with a few lucky "guests" and their horses. Guestrooms as you dream…
An oasis in the Sierra
Arriving by car is magical! Las Alcabalas is located on a hill surrounded by endless fields where the dark colors of the land and the gray green of the olive trees blend together. Listed as Andalusian Cultural Heritage, it is splendid, restored in the pure Sevillian tradition: 2,000 square meters, facade with two white towers, enhanced by the color of Rojo Maestranza, the famous Andalusian red. The large patio decorated with jasmine, oleander and bougainvillea, with a fountain decorated with azulejos, is a haven of freshness. Lined with columns, it served two wings, reception rooms, an Arab bath, and a consecrated chapel where many ceremonies took place. Today it is a spiritual place for guests, and readings or prayers may be conducted with the assistance of priests or deacons. Maud and Didier Poisson also reconnect with the past by planting hundreds of olive trees from which they extract an artisan extra virgin olive oil that is green and fruity.
Like a family home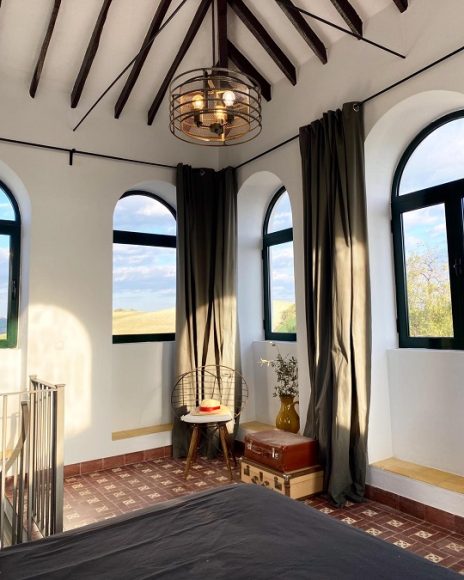 Las Alcabalas can accommodate 16 guests spread over 3 suites and 5 very comfortable rooms on two floors. Maud, whose other passion is china, wanted them all different, decorated with natural materials (wood, wrought iron, etc.), antique furniture and other nuggets. Each one has its own personality Christened with a name in the colors of the region: Jasmine, Mezquita, Palmira, Giralda Contemporary duplex suite in a tower with a 300-degree view .. The owners' love for horses is present in all The pieces: plaid, vintage colored mosquito belts, famous Seville hats with a flat brim …
Relaxation, detachment and pleasure for the senses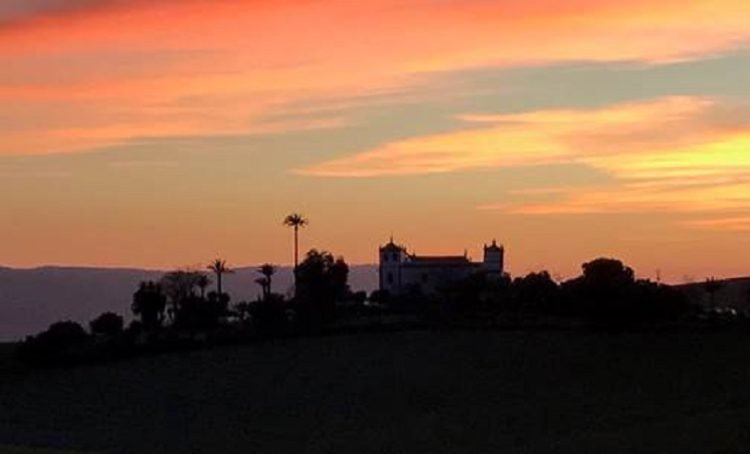 We take our scores right away. On the program: Waking up to birdsong. Marvel at this view over the farm's gardens and endless undulating landscape, combed by rows of olive trees; jogging or cycling at sunrise; Relax on a lounge chair by the palm-fringed pool, enjoying homemade lemonade or most; indulge in a book, play billiards; relax in the hammam, under a vault that reflects candlelight; Watch the sunrise or sunset on the new deck furnished with comfy cushions…
And from 9 pm it gets quiet! We meet on the patio or at the bar over a glass of sherry, cerveza or premium Spanish wine – Didier is a connoisseur – accompanied by succulent tapas. Before going to the dining table, which is well laid out and always differently, enjoy the various specialties revised with modernity by Maud and Rosa. Everything is fresh, local, illuminated with homemade olive oil: croquetas, prawns, carellada de carne in salsa, puchero de pollo, albondigas, paella … and it is impossible to skip the mousse turron and the lemon tart … the farm! The evening stretches out beautifully to the sound of guitars or duende flamenco group of musicians.
Discover the secret of Andalusia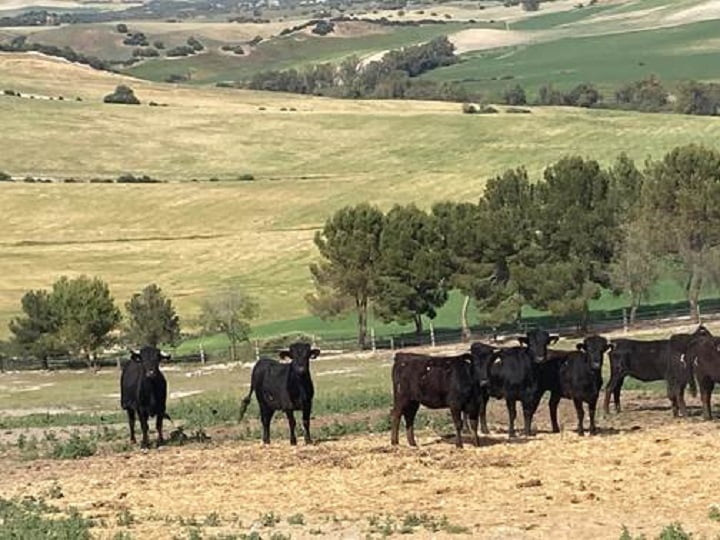 Located in the richest triangle of Andalusian historical and cultural heritage, Hacienda Las Alcabalas is an ideal base for daily sunshine: visit Seville, Cordoba and Donana National Park; Take the path to the white villages (Setenil de las Bodegas, Zahara de la Sierra, Ronda…). Our hosts offer you, thanks to their network of friends, to live secret experiences, in private places: visit one of the most famous female villagers in Spain, her bulls in the company of the owner, autobiography of an Iberian pig farm, live in freedom with a taste of pata negra, attend the spectacular performances of the Royal Andalusian Jerez school de la Frontera, and meeting the jockeys behind the scenes… a real luxury. And if you are fond of horseback riding (at least 5 gallops), Maud organizes dressage courses and the Doma Vaquera.
You have everything for a unique stay off the tourist track, with enthusiastic, gracious and available hosts.
Frederick de Granvilliers,
luxury magazine
Information: Hacienda Las Alcabalas, Carretera Morón Coripe, 1530 Morón de la Frontera, Seville. Spain.
rooms from 120 euros/ day for two; supplement 150 euros. breakfast 15 euros. dinner 45 euros. Experience: price upon request. Privatization is possible. Open all year round.
www.hacienda-lasalcabalas.com