There is no better place to experience the essence of hygge, the Danish concept of a warm, cozy atmosphere and an appreciation for the finer things in life, than by spending a few days in one city in the country.
Denmark's dynamic capital, Copenhagen is the first choice for many international visitors to Scandinavia, especially those arriving by air. From Aarhus' European cultural heritage to Esbjerg's maritime charm, other Danish cities offer a window into a different Denmark.
Many Danish cities are also looking to the future of our urban spaces. From a dry ski slope built on top of a waste management center in Copenhagen to developing new neighborhoods according to the needs of cyclists, Danish cities are really looking to the future.
Whether you're looking for the keys to Scandinavian bliss or an unknown city break, these five Danish city break suggestions should appeal to everyone.
Copenhagen
Denmark's capital conjures up images of the modern Scandinavian way of life, but it's full of castles and other historical sites that will satisfy even the most curious of travellers. Whether you want to learn more about Denmark's status as one of the happiest countries in the world or are simply looking for an enjoyable stay in a city rich in museums and gastronomic experiences, Copenhagen should be your first point of contact.
A week is needed to experience all the highlights of Copenhagen, but a weekend in Copenhagen gives you plenty of time to get a taste of Scandinavia. A visit to the historic Tivoli Gardens amusement park is a must for families, while Rosenborg Castle is home to an interesting museum filled with royal artifacts and a collection of the Crown Jewels.
The bike rhythm makes the heart of Copenhagen come alive, a city that lends itself perfectly to discovery on two wheels.
Even an hour of cycling through the streets of the center will give you an insight into modern Scandinavian culture. Bike Copenhagen offers two-hour guided tours or full-day rentals for those who want to explore on their own.
Cycling is also an ideal way to explore different parts of the city. We suggest you visit the multicultural district of Nørrebro, where street art is in abundance, as well as trendy cafes and avant-garde art galleries in Vesterbro.
Michelin stars shine in the kitchens of leading restaurants at this true culinary destination, but you don't have to break the bank to eat out. Find one of the many food markets or enjoy a smørrebrød (Danish sandwich) at a waterside café, something many Danes do every day.
Aarhus
A former European Capital of Culture, Aarhus offers much of what you'll find in Copenhagen – truly unique museums, a thriving food scene, modern architecture – but with even more breathing room.
The city has been described by Architectural Digest as a "design lover's paradise" thanks to its many architectural attractions.
The Old Town Museum Den Gamle By has collected historic buildings from all over Denmark, while the city's Latin Quarter goes back hundreds of years. Recent architectural highlights include the Dokk1 cultural center on the waterfront and the Isbjerget apartment building.
Aarhus Art Museum (ARoS) features world-class temporary art exhibitions and a gorgeous rainbow rooftop walkway. Prehistory and anthropology take center stage at the Moesgaard Museum, located just outside the city, which delves into the Stone Age and Iron Age through interactive exhibits.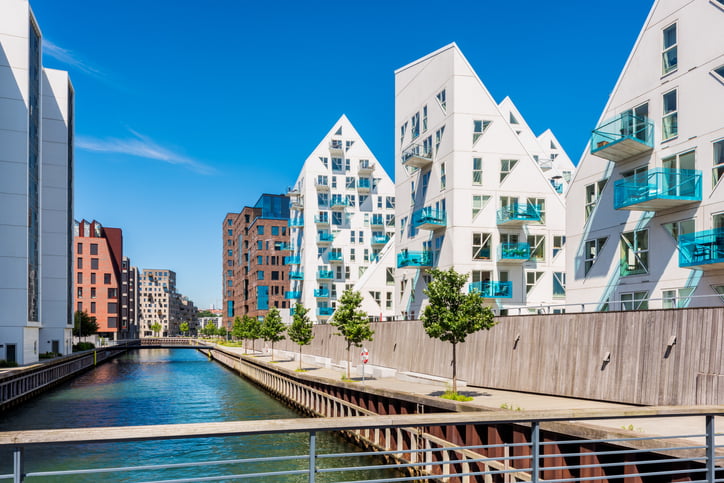 Odense
Denmark's third largest city retains a small town feel despite its rich cultural life and more than 1,000 years of history.
With 200,000 residents and many parks, Odense is a relaxing alternative to Copenhagen. In fact, it's only an hour and 20 minutes by train from the Danish capital, making it an ideal choice for a day trip from Copenhagen.
Danish author Hans Christian Andersen wrote plays, novels, poems, and even travel stories, but his world-famous literary fairy tales are still most remembered. Born into a poor home in Odense, the author has become a popular cultural figure in Copenhagen and around the world. His success has long been celebrated in Odense, and the city now has a nifty new museum worthy of his memory.
The new H.C. Andersen's House, located in the Historic District, focuses not on the man, but on his fairy tales and other stories. The Children's Cultural Center, Underground Museum, and Magical Garden are all great family attractions.
Odense, one of Denmark's oldest cities, is a must-visit for history buffs. It was an important site in the Norse Iron Age and Viking Age, as evidenced by the earthen remains of a 10th-century circular castle in nearby Nonnebakken. Archaeologists have discovered many artifacts in the area that date back to the Viking Age.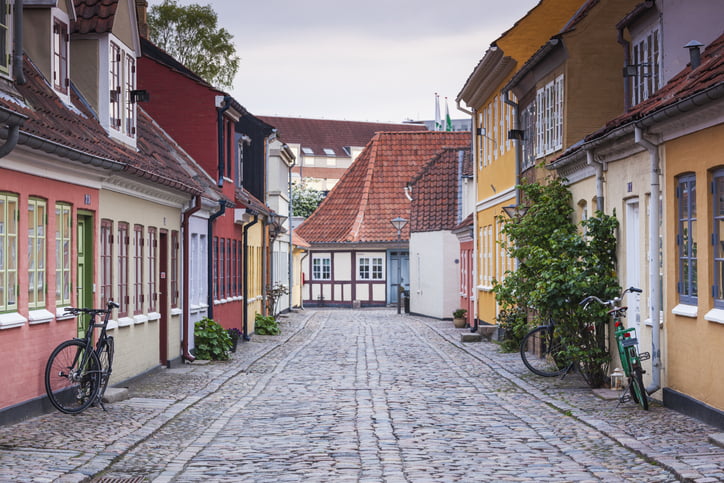 Alborek
Another city often overshadowed by the capital, Aalborg–the fourth-largest city in the country–is expected to attract many American visitors with its enticing mix of history and modern attractions. With the introduction of direct flights between Newark and Alburgh by Scandinavian Airlines (SAS), getting to this gem of the North has never been easier.
A simple stroll through Aalborg reveals its many sides. The old town's charming cobblestone streets, majestic 16th-century Aalborg Castle and half-timbered houses testify to its prosperous past as a merchant town.
The reinvigorated waterfront tells the modern story of the city. Against the city's historical backdrop, waterfront sites including the House of Music and the Utzon Center show that this was not a city frozen in the past.
Adding to the city's appeal are attractions such as the family-friendly Aalborg Zoo, home to more than 100 exotic species, and the Lindholm Hugge Museum, which offers an interesting insight into the city's Viking history.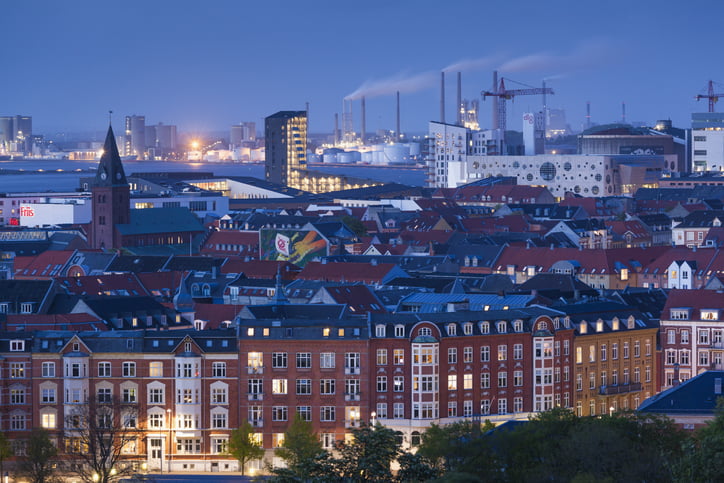 Esbjerg
The massive "Man Meets the Sea" statue is a true symbol of this off-the-beaten-track destination's relationship with the ocean. The row of four 9-meter-tall white statues overlooking the North Sea symbolizes Esbjerg's association with the surrounding waters.
The Esbjerg Museum of Art and the Fisheries and Sea Museum are the main attractions in the city. The first showcases the development of contemporary art in Denmark, while the second provides an overview of Esbjerg's fishing heritage and marine environment.
For nature lovers, you are guaranteed to have fun on the Nørreskoven Forest Trails or the short ferry ride to the sandy beaches and migratory birds of Fanø Island.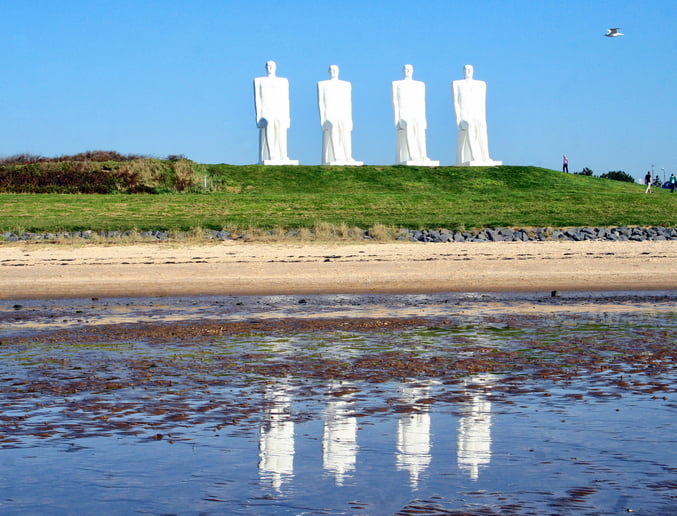 Billund
Unlike the cities mentioned above, Billund is not on any list of largest cities in Denmark. This small town is worth a stop for one simple reason: Legoland. Millions of people travel to Billund every year to visit the original Legoland amusement park.
Open since 1968, parts of the park are starting to get old, but the creation of the Legoland Castle Hotel has modernized the experience. A must for families, the park is divided into several areas, including Duploland, perfect for the little ones.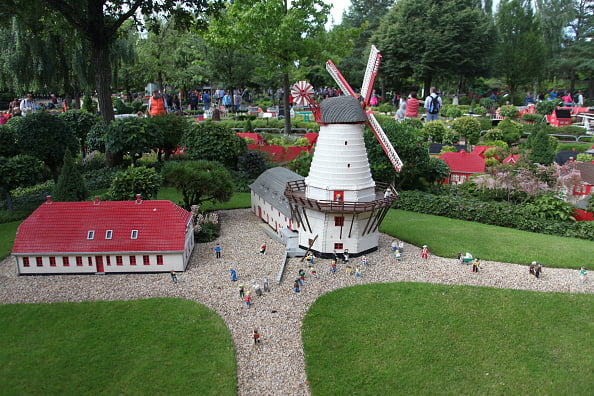 Translated article from the American magazine Forbes – Author: David Nickel
<< اقرأ أيضًا: الترتيب | ما هي الوجهات التي يقع فيها ضحايا السياحة الزائدة في أوروبا؟ >>>