A few minutes from the heart of Saint-Rémy-de-Provence, Domaine de Chalamon is a Provencal bastion reserved for romantic beings.
Behind this house hides a duo of enthusiasts: Guillaume Foucher and Frédéric Biousse, creators of Les Domaines de Fontenille, a collection of places they have committed to bringing to life, combining refinement with generosity. In accordance with their wishes, they placed their purses in the four corners of France and expected a spread throughout Europe, from the Greek Isles to the landscapes of Scotland.
the Fontenille domains, it is a desire to share a certain idea of ​​beauty, an invitation to reflect on the dream of Frédéric and Guillaume, two lovers of spending time. The volumes of "La Recherche", carelessly scattered in the living room library, testify to this poetic approach to the profession.
Once inside, at the end of the alley of plane trees, you can see a gate in soft blue, one of those gates with a hint of ochre. This first vision foretells the colorful transit that the visitor is about to experience. Because every shade of the estate was conceived as a tribute to Van Gogh, the emblematic artist of Saint-Rémy-de-Provence. A symphony of bright pinks, offset by soft greensmixed with shades of Provençal stone and cane furniture.
Behind this residence, with its impressionistic charm, unfolds a variety of green spaces that indicate a diversity of walks: from the French garden to the field of olive trees caressed by the Mistral, nature harmonizes with the aesthetic of French life. Because what drives Frédéric and Guillaume, these two children from farming families, is this potential return to the land and the values ​​of humility that drag it in its wake.
Inside, The ornament is seen as an ode to the time, made up of durable materials and timeless shapes. Ceramic vases and designer Paola Baronito's hangings are scattered here and there, adding a contemporary touch that not only blends into this heritage site but also enhances its attractions.
restaurant, the Chef Remy Valesquele It offers gastronomy that respects local producers and is aware of the world around it. His kitchen with Southern accents spreads the herbal scents of the region. Modest and elegant, it adapts to country outings on a trip to the slopes of the Alpilles Mountains.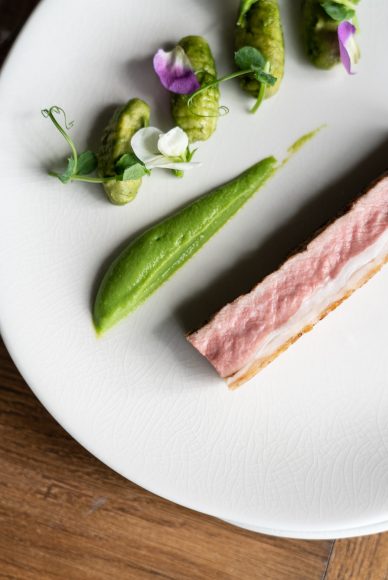 Each room has its own charm, a view that makes it extra special, a speckled mirror, and a watercolor by Rosanna Morris, a design gesture. Guillaume and Frédéric chose to scrap the notion that we usually have a beautiful room—a spacious place, accompanied by a list of practical equipment and features—to refocus on light, which, at a particular time of day or summer evening, will stir the pensive soul.
the Chalamon domain So it presents itself as the new realization of the Fontenille ethos, in which a moment of carelessness along a heated pool is combined with a long reminiscence.
| Forbes: Ultimate luxury at Lefay Resort and Spa Dolomites