An immersive culinary experience on Ramatuelle's gorgeous Pampelonne Beach, offering a creative Mediterranean menu and quality service. Verde Beach, a true dream place on the Côte d'Azur, feet in the sand, looking up to the stars.
Totally immersed in the frenzy of the international scene of jet-setters, beach lovers and groups of friends looking for entertainment, Verde Beach offers you an experience where music reverberates all day in a paradisiacal setting. Around 4pm, the atmosphere heats up with live performances from international DJs.
but that is not all. Imagine your feet buried in the soft sand surrounded by a magical atmosphere. Verde Beach presents itself as a dreamy place to be, offering a breathtaking view of the shimmering waters of the Côte d'Azur. The roar of the waves, the breeze caressing your skin, here's only one voice: "Take the time." An invitation to escape and absolute relaxation.
What really sets Verde Beach apart is the passionate commitment of its team. His dedication and knowledge turn every visit into an unforgettable memory. Guests are carefully pampered and guided through a true culinary journey, where every detail is carefully curated.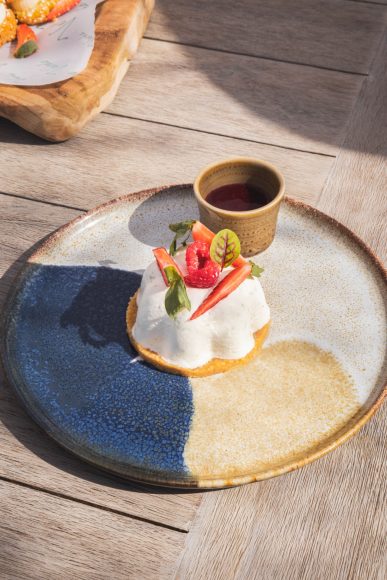 Welcome to the coastal paradise, the perfect place to recharge your batteries and live the authentic Mediterranean experience for both tourists and locals. Escape the hectic pace of the year and treat yourself to a well-deserved holiday. Verde Beach welcomes you every day from 11am to 8pm in a cheerful setting. Here, we recharge the batteries for an unforgettable weekend or week away.
Far from the ordinary, and brimming with pride in the charm and elegance of the Côte d'Azur, Verde Beach has also embarked on a new adventure with the opening of its second beach club in Dubai. An oasis of Saint-Tropez in the heart of the Middle East, lapped by crystal clear waters, opposite the city's most emblematic palace, the Burj Al Arab.
Article written by Alice Mason
<< اقرأ أيضًا: مقابلة مع Célia Gumbau-Serra في الذكرى العشرين لشاطئ Nikki في Saint-Tropez >>>