Grace in the Mediterranean, a fragrant dress by a couturier, a trip to Mozambique in the footsteps of Baroness Ariane de Rothschild … and many other promises. Highlighting the season's indispensable fragrances!
Elixir, Elie Saab
Treat yourself to a slice of the awesome. Who better than Elie Saab to bring women to the fore? He is an inspiration who has always put him on a pedestal. On the catwalk, she is divine, dressed in a breathtaking princess dress, now decked out in an olfactory veil of floral and amber tones, with Cedretti's iris at its heart. Variety blooms in the Pays des Cèdres region. A first nod to the fashion designer's homeland which can also be found in the essence of orange blossom from Lebanon. These reassuring roots then introduce us to a more sophisticated realm, like the house's stately creations.
Elixir, the new name of the Elie Saab series, is a clear allusion to the legend of the love potion and the enchanting and mysterious universe it conjures. The duo of perfumers Aurélien Guichard and Jérôme Di Marino is entrusted with the task of multiplying the aura of the fair sex through a trail of intense femininity. Created exclusively by the tandem, "Love Agreement" recreates a sense of magnetic attraction.
It's supermodel Candice Swanepoel who perfectly interprets this solar sensuality in her sparkling red burgundy dress. The mark that the elixir will leave around you is clear: it is love at first sight! As for the bottle, the golden faceted ball has all the jewel case.
Heritage Collection, Moncler
Alpine peaks encapsulated in apothecary bottles with elegant lines, this is Moncler's heritage collection. Since 2021, it has been possible to pamper yourself with juices inspired by the brand's universe. Moncler is as at home in the city as it is in the great outdoors with its signature quilting subtly reflected on the bottles. For her, for him, we are going on a mountain expedition thanks to the talent of six perfumers whose road map has been to replicate the scents of wood and resinous trees so prevalent in the Alps. Boisé Ambrée Eau de Parfum is a spicy vetiver wind, a bold interpretation of the expression "under the fire, under the ice."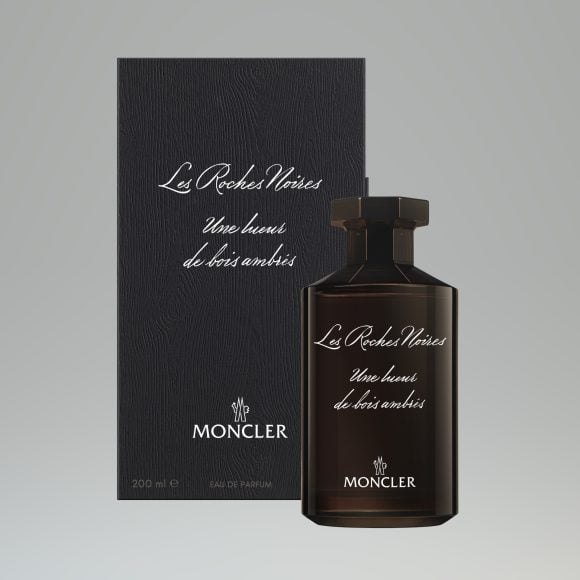 Les Roches Noires, is a glow of amber woods in which patchouli is tamed. Le Solstice, a breath of iridescent sandalwood that envelops you in the comforting warmth of a mountain retreat. Haute Montagne Eclats de Bois Blancs infuses rising blond wood into a hint of vanilla from Madagascar, and the contrast is delicious. La Cordée, in the Cime du Cyprès, captures the intensity of this tree, rich in virtues. Bergamot and black tea leaves create an addictive blend.
Moncler completes its collection with a home fragrance and a blue cedar candle. Without leaving your home, you run away in the mountains, forgetting about your routine.
Lemon Sun, Rochas
To celebrate the sweet season, the tri-color label anchors us in the Mediterranean as it smells like lemon. Located in her element on the Riviera, Rochas is a destination where she never ceases to draw inspiration, emotions and fragrances. Some flashback for ordinary folks, in 1970 the brand created a surprise with a unique and vibrant fragrance: Eau de Rochas, a purely feminine cologne, the first of its kind, inspired by the sensations of walking on the edge of the big blue…a touch of French elegance. An annual event that beauties from all countries await to complete their summer look.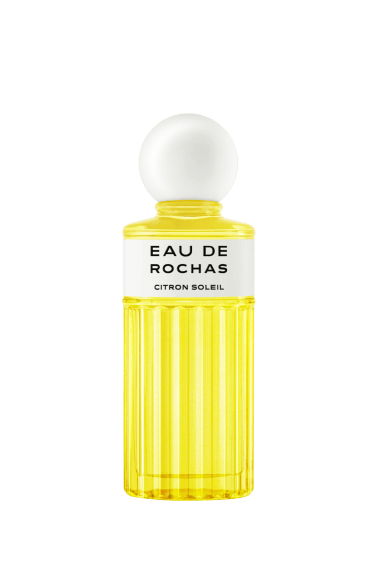 The 2023 edition transports us to the foot of an orchard where the main citrus fruits sparkle on our tables with a thousand scents. On our skin, it's a real sunbath. At the top, lemon essence instantly fuses with orange blossom and the green notes of crumbling fig leaves vibrate in turn. In this symphony of scents we also find the zest of orange blossom, rose petals and even amber and woody notes. So beware of appearances by looking at the bottle which is dressed in yellow, it is full of intoxicating aroma.
The Citron Soleil presents itself as a vintage collectible object with clean lines, a rounded lid and folded graphic glass. Vivid vision!
Bill Di Niassa, Karon
The famous perfumer takes us on a journey to distant lands, to Mozambique, in the midst of the Nyasa plains. An African region so dear to Baroness Ariane de Rothschild who has restored all her luster to the century-old mark since she took over. Belle de Niassa translates a captivating aromatic emotion that is experienced every year during the blossoming of the mahogany flower. A magical moment that Jean-Jacques' nose will be called to live. The goal: to photograph this nature festival in all its splendor. It's a matter of restoring and reforming that new scent to share it cheerfully. Belle de Niassa is a gift, a delicate concern for souls sensitive to the depth of life.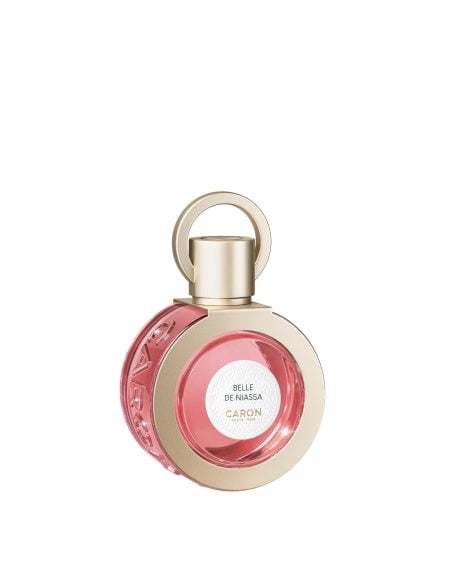 From this experience, Jean-Jacques will draw a potent juice featuring two notes of jasmine, a fleshy and sensual 'open flower', a sambac with a petal-and-fruity accent, which blossoms alongside a ylang-ylang of great rarity. The materials are precious and exclusive, like Caron, a timeless brand synonymous with French refinement. Belle de Niassa also has notes of watermelon, black currant, and green mango.
Exotic and fresh, two essential summer guests seal the perfect match. Offered in a refillable O bottle, Opus will undoubtedly be more than just a summertime spinner.
Nomad, Chloe
Intense natural jasmine elevates all the senses. Deriving from Egypt, these fruity blooms shower us with sunshine and promise a wonderful escape. The land of the Pharaohs sizzles in this fragrance, in honor of the birth of Egyptian founder Gaby Aghion. We discover a skilful blend of refined and gourmet notes: plum, Mirabelle pear, dates, and vanilla collide in the base of the fragrance based on sandalwood, oakmoss, and patchouli. The cocktail is delicious. Nose Caroline Dumur plays on contrasts to best spice up this fragrant dress.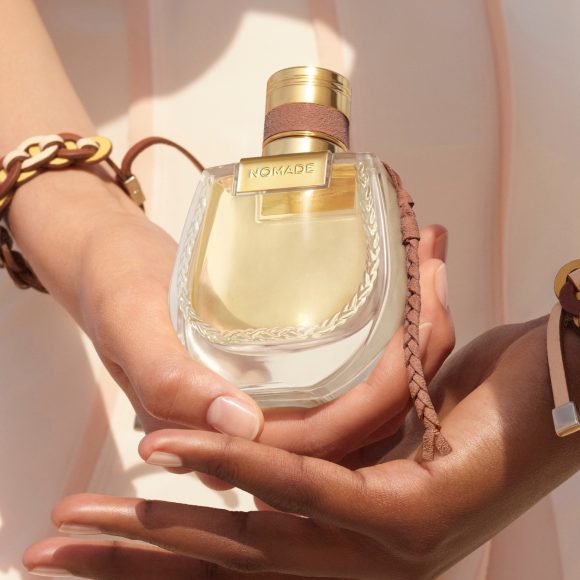 The Bedouin woman belongs to the adventurers, however, her ephemeral presence should leave a memory, an impact on the people she meets. Chloe also imagines being conscious and connected to the world and the environment. Nomade Jasmin Naturel Intense is formulated with 100% natural fragrance, alcohol and water. any thing else. It's vegan, contains no artificial colors, and is made with 15% recycled glass. From release to release, the desire for transparency and good practices remains.
The distinctive bottle that looks like an elegant pumpkin also shows meaning in its design. Nomade wears a brown braid around the collar that represents the bonds we create during our travels.
Cutie Pear, Valmont
On the "Palazzo Nobile" set, I'm called Cutie Pear! This latest addition to the Valmont brand is a spark of joy, a hymn to life that evokes the joy of gathering with loved ones around beautiful summer tables. Yes, it's all in the perfume! When you remove the cap, you're showered with a fresh floral scent, it's a cloud of fruity notes connecting you to the good mood channel. This essence of shared happiness is the result of a strong and lasting bond between Sophie van Gelon, CEO of the Swiss luxury brand, and Véronique Dupont, Master Perfumer and President of Société Française des Parfumeurs."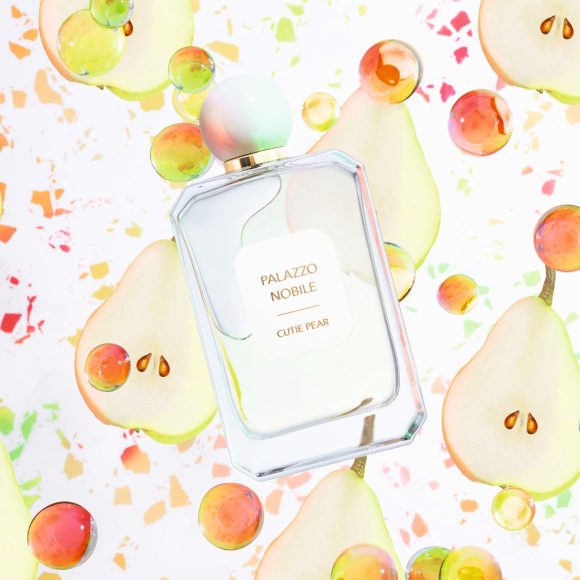 This quartet score enchants us with its green and aquatic touches of green tea, with its refreshing and crunchy touch based on mouthwatering rhubarb and pear. Multi-faceted, this eau de toilette delicately unclogs pores. If Cutie Pear were a melody, it would be modern and catchy music with disco pop ringtones! It would be a massive social weapon that has no other purpose than to fix you in the present. A beautiful way to create memories thanks to this sparkling fragrance.
For more :
Elixir, Elie Saab
Heritage Collection, Moncler
Lemon Sun, Rochas
Bill Di Niassa, Karon
Nomad, Chloe
Cutie Pear, Valmont
<< اقرأ أيضًا: "Storie Veneziane ، فن العطور وفقًا لفالمونت" >>>