Promised a stellar career as a top-level athlete, Leloluce is eventually in finance, as a chartered accountant, making a career out of it. One day when a great business leader asks her to exempt from taxes works of art acquired on behalf of his company, it is a revelation! She began to study art from every angle and, above all, no longer kept silent about her passion for this universe which until then had been considered a simple hobby. Today, a famous artist, the Savoyard is a personal favorite of the wealthy. An encounter with a French woman who colors the lives of her fans.
I have always been an artist at heart. However, I have always associated this world with a hobby. When does one decide to leave a comfortable position as a chartered accountant to embark on the unknown?
lilos : I decided to change everything when I realized that I was not in my place. Even if I appreciated the world of money and numbers, I had a feeling of inadequacy every morning because I wasn't shaking in my heart. Since I am practicing as an artist, I have stars in my eyes and a flame for each passing day!
When you first started exploring this universe, what surprised you and also the most challenging?
I am still intrigued by the fact that there is no limit to success in this profession, and that you can create the 'wow effect' at any time! It is as vibrant as it is inspiring. The challenge was figuring out a field I was so far away from. Neither my family nor those around me know anything about it. In fact, I had to be self-learned in order to follow my path as I felt, and to remain myself because I could not be affected by those around me. It is an exceptional opportunity to build oneself solely on the basis of one's own values ​​and vision.
For someone who is not a beginner in the art world, how does he get into it? What questions should we ask ourselves when considering embracing the artist's life?
I myself don't know how I got there if I really thought about it! I stayed original, possessed by a very strong desire to get into it. I worked a lot. I believe when you want, you can, especially if you still believe in yourself. However, when considering becoming an artist, one must know that it is not an easy thing to do. Moreover, the common expression that tells us that "the life of an artist is not easy" is a reality. You have to be strong and believe in your art. If you want to embrace this profession to become rich or famous, it is best to stop immediately.
I think the transcendental element is in this desire to share with others, to make people dream, to help. Creation for me is vital, it comes from courage, from my life's journey. So, I have this strength that allows me to let go of that.
In the end, artistic success is above all the intention to bring people happiness and participation.
Lilos: My artistic signature is a puzzle of colors coming together to form a bubble of happiness."
When did you go from anonymity to this recognized artist appreciated by the most dedicated of collectors?
I don't know how to say it! I am completely devoted to my world of creation, I go where I feel like it, where my values ​​take me. Always with a lot of kindness and sharing. Thus, I participate in many auctions to help the poorest people and support associations linked to my convictions. The collectors and investors present because they no doubt identify themselves in these charities and have spotted me. I also perform internationally, which has put me in the spotlight. Today, art is visible everywhere thanks to social networks, it's the magic of digital! I'm glad it allows artists to show up.
What is Leloluce's artistic signature?
It is a combination of colors in the form of a puzzle that come together to form a bubble of happiness. A planet in which problems and pains are raised so that they turn into charity, joy and love. Others will say it's graffiti in a pop art setting, which is a less dreamlike term (laughs).
Become an A-list artist, showcased all over the world, how do you make that holy grail goal within reach?
If I did, anyone could. On paper, I've never really broken through and made a name for myself. As a young girl, I dreamed above all of being a top-level athlete, but then I found myself a chartered accountant… I ended up dropping everything by throwing myself into the unknown to be an artist. The desire is that you can!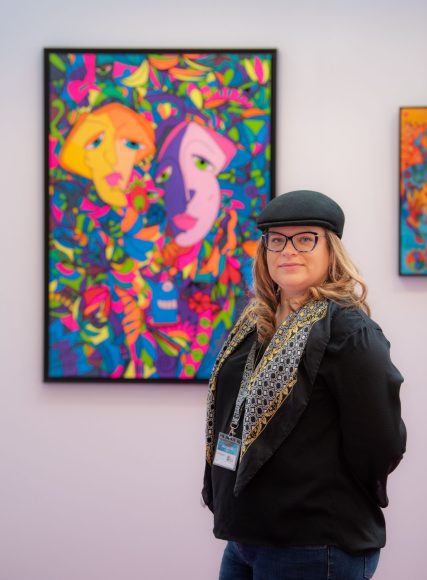 Don't have reservations about talking about business and art, it's a safe haven like stone. How do you invest appropriately in an emerging or established artist?
Finance and art literally match my background, which is why I give the advice to invest in art, of course. I do conferences on this topic. There are several questions to ask: do we invest out of taste or just to make money? Because, in fact, you can quickly make a fortune if you bet on the right artist. In my opinion, art is the safest and most profitable investment in the world. The reasons are multiple, a quote is obtained and it never falls; The profitability is unlimited and impressive!
I got to +60% over the course of a year thanks to my creations. Also, the laws pro-investing in this area are still beneficial, and there are few, if any, taxes.
Despite the efforts made, this field remains elitist. How can art in France really be democratized both for the common people and for the talents?
This field remains elitist because it thrives on archives and uses that need to be changed. However, customs and customs differ from country to country. For example, in the United States, the reaction when you want to decorate your home is to get works in galleries or from nearby artists. In France we go to IKEA, Castorama or any other supermarket, which is absurd to me because the artists around are often more talented…and cheaper!
Historically in our country, painting was a practice restricted to the nobility, hence this belief has persisted through the generations. I come from a very humble family who could not afford the slightest perversity, rummaged through drawers to find pennies… So, for all that I've managed to live off of my art today, you don't perpetuate this notion that it's a system reserved for the elite. It's just an idea received. Even if my works are not now available to everyone because of their high price, they did not exist even ten years ago. Anyone can get artwork.
For more :
www.leloluce.com
<<< Read also: Isabelle Maecht, The Art of Inheritance »>>>