For 10 years now, Maylis and Charles Tassin have distinguished themselves with a bold, opulent, and ultra-neoclassical approach to furniture.
The house features a family history linked to the history of art, weaving connections between eras and painting over patterns The forties and seventies To present poetic, sensual, sometimes mysterious, always timeless objects, which can coexist with the architectures of yesterday and tomorrow. Special attention is paid to the design, taking into account every curve and opposite curve to get the right balance. This desire for perfection stems from the quartet's rigor, which is subject to the artistic perspective of Miles and Charles. From this duo, exceptional works were born that combine ancestral knowledge with a contemporary approach.
Leitmotif: Promoting French craftsmanship. Miles and Charles have, from the very beginning, gauged the importance of supporting our artisans: " These women and men have the wit of hand, the daring, and the techniques that allow them to come as close as possible to our creative desires, even better, to enrich them with incredible knowledge. When the project starts, there is a real dialogue between us to ensure the feasibility of the idea and overcome potential technical problems. When Maylis and Charles imagined the first pieces from the collection, they wanted to break the contemporary trend while creating pieces that could fit into different decorating projects.
During this decade dedicated to promoting French craftsmanship, interior designers have been able to attract an international clientele. Each piece in the collection pays homage to the uniqueness of famous French elegance " French touch » A feature of our way of life. In fact, most of the company's sales come from exports, which is Miles and Charles' way of distributing exceptional French creativity around the world. " Our clients are mainly from the United States. We found cultured clients there who were sensitive to our decorating philosophy and the love we feel for our craft. We are often led with them to carry out complete interiors, a real pleasure because for us it is the possibility of expressing ourselves down to the details to create places for sensual and eclectic collectors. ".
After conquering the intimacy of the finest interiors, The invisible group accompanies those whom they consider The most beautiful couple in Paris at the forefront of the scene. Thus, the platform will represent their collection of furniture across the Channel but also across the Atlantic, amplifying the conquest of the American market by MAY.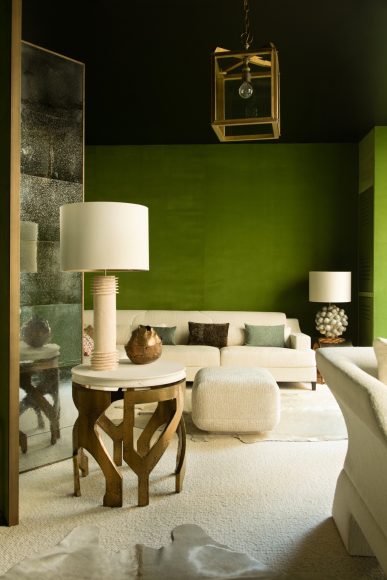 Charles and Miles settled ten years ago in the heart of the antique dealers' square, 23 rue de l'Isle, then quickly expanded to 34 rue de l'Isle The collection is now presented in two other galleries. Thus was born the collection of Noble Materials which already includes fifty pieces. These creations, masterpieces of the future, perpetuate the French art de vivre that takes place in cultivated interiors, in France or abroad.
<< لقراءة أيضًا: ناتالي لودفيج: المصممة الفرنسية الألمانية التي تعيد اختراع فن العيش تحت شمس جنوب فرنسا >>>